Tribute Party Nights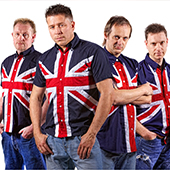 BIG UP THE 90's has been in existence as a working band since 1995!!
Whilst their 10th anniversary year was fast approaching the lads decided it was time to spread thier wings with a new challenge, so began to think of a project that would compliment and continue the success that kick up the 80's had enjoyed. The natural conclusion for this project to celebrate their 10th year, was to look 10 years on from the 80's to the 1990's!
Living their wasted youth through the 90's they had all experienced the decade first hand, and quickly put together a list of songs to include all of the stars of the era, from boy bands to brit pop via girl power, creating a set list to keep people dancing and singing all night.
With their debut live appearance at The Robin 2 in Bilston on New Year's Eve 2008, the band has gone from strength to strength. In November 2010 Ant Green joined the band on guitar, having previously played in various local bands including Tranzam.
Proving a huge success, it looks like Big Up The 90s will be "Living La Vida Loca" for many years to come!!
The rest, as they say, is HISTORY!
Check out the band's page by clicking here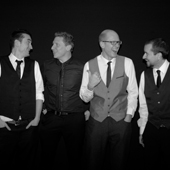 A modern, upbeat, versatile and classy West Midlands cover band, The Suits approach every party with one aim; to get you dancing!
The Suits will deliver an atmosphere unlike anything you have ever experienced before.
With a set list ranging from 1950's rock and roll via 70's disco and funk all the way up to 90's indie and today's best known pop hits, The Suits will wow you with their own twist on classic and contemporary songs.
You can guarantee the dance floor will be full from start to finish resulting in your party being the talked about event for years to come!
The Soundations Decades Party Set
A regular band at the Banks's, they love performing here and have a big following who come here on a regular basis to watch them perform many of their different party sets throughout the year. The decades set is full on floor fillers from the 60's to the present day!
Something for everyone with The Soundations, you really can't go wrong!