Alternative Events
REVIVAL: The Rivals 2017 is the latest upcoming show from Revival Retro Events, featuring the very best dedicated retro video gaming exhibits and unrivalled gaming atmosphere! The event will feature over 150 playable systems and interactive exhibits that will entertain any old school gamer, families, children and casual gamers alike, including:
– Over 150 playable retro consoles and computers
– Over 60 FREE PLAY video arcade and pinball machines
– On-stage competitions and prizesfeaturing Gamesmaster's Dave Perry
– Multiplayer experiences and classic head-to-head gaming
– A large selection of traders offering various retro collectables
– Live special guest talks including Rare and Gremlin Interactive
– Fully licensed bar and snack bar serving hot and cold food throughout
Adult tickets are priced at just £12 for a whole day, with all consoles, arcades, pinball and entertainment are free to play as much as you like – no 10p's needed! Concessions available for children, disabled visitors, weekend tickets and group bookings.
CIRQUE DU TATTOO FESTIVAL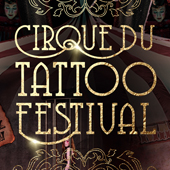 The inaugural Cirque Du Tattoo Festival 2017 is the newest, freshest, most bizarre and unique tattoo convention in the UK. Organised to add a twist to your normal, everyday tattoo convention, it's guaranteed to intrigue and fascinate all those who attend. This tattoo event is not to be missed! Opening our doors on the weekend of July 1st – July 2nd 2017 at Banks's Stadium, Walsall, in the heart of the West Midlands, Cirque Du Tattoo Festival 2017 will open your mind to the spectacular world of body art and modification. Over 80 of the finest tattoo artists from the UK, Europe and further afield will be in attendance, showcasing their amazing artwork to the masses. Be sure to check out our full list of incredible Artists as they are announced.
THE NEWEST, FRESHEST TATTOO CONVENTION IN THE UK!
This tattoo festival will have it all! It's all about the art, about the craft and about sharing knowledge of the industry.
However, it's also been created as a spectacle – an extravaganza – a one stop shop for a weekend of madness, entertainment and fun!
Make sure you're in attendance for THE TATTOO EVENT OF THE SUMMER!