One Stop Boogie Party Night – Movie Magic – Bonser Suite
Saturday 17th December
7:30pm to 11:30pm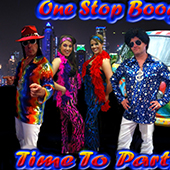 Their shows are beautifully costumed and choreographed in front of a themed lighting and projection system visually they look first class and their vocals are superb.
The band perform many different party sets, to suit the needs of many different venues. We have chosen 2 of their sets and put them together to make one fantastic floor filling show. OSB will perform the most popular hits from the 70s they will then take us through to the sound of the 80s.
This night is a must for all party goers that like to dance, we encourage fancy dress for these shows, so you can either go back to the 70s dig out your short shorts, flares and floral prints or Leg warmers, slogan t-shirts, big hair and acid colours for the full 80s trip
Boogie at the Movies is the second xmas show from OSB, the band take us on a tour of some of the most iconic songs from the movies to include Grease, Dirty Dancing, Blues Brothers, Footloose , Mama Mia and ghost to name but a few….
This particular set is a timeless classic that appeals to all audiences of all ages and keeps the dance floor packed from start to finish.