Just For Kicks
Friday 27th April to Saturday 28th April
6:30pm to 1:00am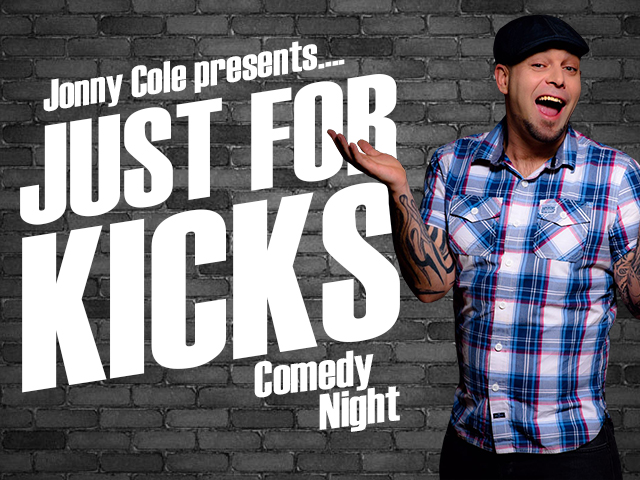 Just For Kicks is back in April!
After a successful first show in 2017, Just For Kicks is coming back to WFC The Venue – presented by local comedian Jonny Cole and starring TV's Andy Parsons, Lindsey Santoro & Josh Pugh.
So who's performing?
Andy Parsons started his career writing for Weekending and went on to become one of the main writers on the ground-breaking Spitting Image satirical puppet show. Andy has performed on numerous radio & TV shows including Live at the Apollo, Mock the Week, QI, Saturday Live, The Stand Up Show, The Comedy Store, They Think It's All Over, The PMQ show, Scrooby Trevithick and Parsons & Naylor's Pull-Out Sections.
Having won the Time Out Comedy Award in 2002 he has performed his stand-up all over the world from the prestigious Montreal and Kilkenny comedy festivals to touring Australia and New Zealand. To date he has done five sell-out National tours and in 2009 he released his debut DVD Britain's Got Idiots, which was followed up by Gruntled in 2011, Slacktivist in 2013 and Live & Unleashed – But Naturally Cautious in 2015. He also hosts a monthly podcast recorded at the Soho Theatre with MPs, journalists and comedians entitled Slacktivist Action Group.
Lindsey Santoro has been active on the Midlands comedy circuit since 2014. She made the semi-finals of the BBC New Comedy Awards in 2016 and describes her style as a mix of the down-to-earth and the madcap.
Josh Pugh is a local comedian who has recently won English Comedian of the Year – he has the air of a rising star. Pugh is confident but not cocky, is immediately likeable and a natural on stage.
Tickets £20 per person*. Please note that this show is available only for over-18s, and no dress restrictions apply.
Doors open at 6.30pm on the evening, with the show set to start at 8pm and an approximate finish of 11.30pm. The stadium will close at 1am. Bar service is available throughout the night as well as a snack menu in our Bonser Suite