CIRQUE DU TATTOO FESTIVAL
Saturday 1st July to Sunday 2nd July
9:00am to 9:00am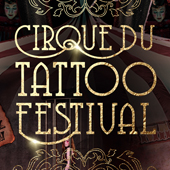 The inaugural Cirque Du Tattoo Festival 2017 is the newest, freshest, most bizarre and unique tattoo convention in the UK. Organised to add a twist to your normal, everyday tattoo convention, it's guaranteed to intrigue and fascinate all those who attend. This tattoo event is not to be missed! Opening our doors on the weekend of July 1st – July 2nd 2017 at Banks's Stadium, Walsall, in the heart of the West Midlands, Cirque Du Tattoo Festival 2017 will open your mind to the spectacular world of body art and modification. Over 80 of the finest tattoo artists from the UK, Europe and further afield will be in attendance, showcasing their amazing artwork to the masses. Be sure to check out our full list of incredible Artists as they are announced.
THE NEWEST, FRESHEST TATTOO CONVENTION IN THE UK!
This tattoo festival will have it all! It's all about the art, about the craft and about sharing knowledge of the industry.
However, it's also been created as a spectacle – an extravaganza – a one stop shop for a weekend of madness, entertainment and fun!
Make sure you're in attendance for THE TATTOO EVENT OF THE SUMMER!