Big up the 90s
Friday 31st March
7:00pm to 11:30pm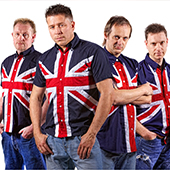 BIG UP THE 90's has been in existence as a working band since 1995!!
Whilst their 10th anniversary year was fast approaching the lads decided it was time to spread thier wings with a new challenge, so began to think of a project that would compliment and continue the success that kick up the 80's had enjoyed. The natural conclusion for this project to celebrate their 10th year, was to look 10 years on from the 80's to the 1990's!
Living their wasted youth through the 90's they had all experienced the decade first hand, and quickly put together a list of songs to include all of the stars of the era, from boy bands to brit pop via girl power, creating a set list to keep people dancing and singing all night.
With their debut live appearance at The Robin 2 in Bilston on New Year's Eve 2008, the band has gone from strength to strength. In November 2010 Ant Green joined the band on guitar, having previously played in various local bands including Tranzam.
Proving a huge success, it looks like Big Up The 90s will be "Living La Vida Loca" for many years to come!!
The rest, as they say, is HISTORY!
Check out the band's page by clicking here