A Sporting Dinner with Ray Graydon
Friday 15th April
7:30pm to 11:30pm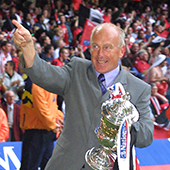 AND MEMBERS OF HIS PROMOTION WINNING SIDE OF 2000/01
Join us for an evening with Ray Graydon and members of his play-off winning side of 2000/01 at the Banks's Stadium on Friday 15th April.
Fifteen years on from the historic Second Division campaign, we're reuniting some of the biggest and boldest characters to ever pull on a Walsall shirt!
Hear from key members of Ray's squad as we take a trip down memory lane to one of the most celebrated seasons in the Club's 127-year history.
Relive Jorge Leitao's first season at the club and of course the infamous Play-off final against Reading at the Millennium Stadium.
Supporters will have an opportunity to discuss their memories and quiz the squad in what will be an interactive evening of celebration!