Main Courses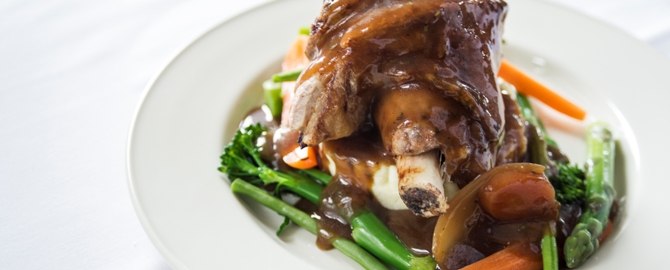 Once you have selected your main course, choose from our starters and dessert menus – both included in the price of your main course.
Roast Loin of Pork Glazed with Honey                                                                    £25.00
Tender slices of pork in a tasty cider sauce finished with apple
Roasted Chicken Breast                                                                                           £25.00
served with any one of the following
Chasseur – a rich red wine sauce with tomatoes, sliced mushrooms, bacon, and onions finished with thyme
White Wine & Cream – with mushrooms finished with tarragon
Roast Chicken Jus – seasoning balls and pigs in blankets
Classic Roast Turkey                                                                                                £27.50
with seasoning and pigs in blankets served with a rich roast gravy
Roasted Salmon Supreme                                                                                        £30.00
Served with any one of the following
Herb Crust
Simple Herb Butter
Hollandaise Sauce
White Wine and Dill Sauce
Chef's Famous 3 Hour Braised Lamb Shank                                                           £32.50
With root vegetables in a mint and rosemary sauce
Roast Sirloin of Beef with Yorkshire Pudding                                                         £32.50
With classic roast gravy or chasseur sauce
[v] Goats Cheese & Red Onion Tart                                                                         £23.00
Served with roast onion coulis
[v] Aubergine & Courgette Bake                                                                             £23.00
Topped with cheese and oven baked until golden
[v] Somerset Brie & Beetroot Tart                                                                          £23.00
Served with roast onion coulis
All of the above are served with Chefs choice of Vegetables and potatoes unless otherwise requested.
Gluten Free options are available. Please speak to a member of the team for further information.